Are you looking for Rubble PAW Patrol Costume for your little PAW Patrol Rubble fan?
**This post contains affiliate links and I will be compensated if you make a purchase after clicking on my links
If you're not too familiar with Rubble from the PAW Patrol team, he's the most lovable little bulldog that is sometimes just a little gruff, however on the other hand he knows everything there is to know about skateboards and snowboards.
Rubble loves to get dirty and there's no job that Rubble's construction digger can not scoop up.
As you might have noticed there are very few Rubble PAW Patrol costumes to choose from unless you are a handy DIY kind of person and you can craft your own PAW Patrol Rubble Costume out of things you find or buy.
First of all let's take a closer look at the one Rubble costume I found and if I find more I'll post them on this page so if you are set on buying a Rubble costume for your little one check back often to see what's new.
Rubble PAW Patrol Costume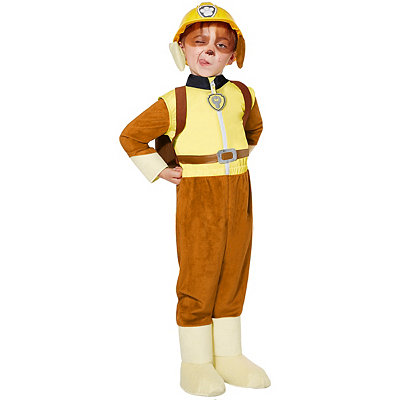 Paw Patrol Rubble Deluxe Toddler Costume
This is an officially licensed Paw Patrol Rubble Deluxe Toddler Costume that comes with a Jumpsuit, Hat, and Backpack. It is made of polyester and the manufacturer recommends that it be hand washed and if needed dry flat.
The costume is made up of a yellow jumpsuit with velvet fur legs and sleeves and a teeny weeny tail, boot covers and a belt.
Feel a little trouble on the way protect yourself with this yellow hard hat with attached ears and a PAW Patrol logo on the front. To complete the Rubble Paw Patrol Costume there is a functional brown pup pack with wrench pup-tag.
PAW Patrol Rubble is one tough looking bulldog that just loves saving everyone along with the other PAW Patrol pups, so lookout  for PAW Patrol Rubble on the double!
DIY Rubble PAW Patrol Costume
Now, for the the DIY Rubble PAW Patrol Costume from the stuff you have already or maybe some other small things you could buy.
Let's take a closer look at Rubble's appearance. Rubble has mostly brown fur with a white belly and white fur that covers most of his face. Rubble has tiny tail and bright brown eyes.
He wears a black collar with a yellow tag that has a wrench symbol on it.
Rubble's gear is typically used for safety in the construction business so, it includes a yellow vest and a yellow hardhat and of course his pup pack.
If you are going to try and put together a Rubble costume on your own, the most important parts would be his yellow vest, hardhat and his pup pack.
List of what you'll need to find around the house or buy.
Brown tee-shirt (long sleeve)
Brown Pants
Yellow vest (buy or make)
Yellow Hardhat for kids
Paw patrol decal and paw patrol tag(either print out or buy online)
brown furry fabric or felt fabric for Rubble's ears and stubby little tail.
glue
The PAW Pack
For the backpack:
You could easily make one from a small cardboard box painted yellow or covered with yellow fabric and if you have a digger arm you could attach that to the box. A lot of the accessories you need can be found at your local secondhand store or goodwill store.
If all else fails you could use a PAW Patrol backpack if you have one.
I'll be putting together a Rubble costume with instructions and pictures soon so be sure to bookmark this page.

Rubble Paw Patrol Costume Ideas To Help  With Your Toddlers Costume
Here are some ideas for clothing and accessories that might help you put together your own Rubble Paw Patrol outfit.
You might already have a lot of these pieces of clothing around the house or maybe you have a second hand clothing or thrift store in the neighborhood.
These are some ideas I found. I know if I dig around in the back of the closet I can always find something that is useful for putting together a great costume.
But you realize what ever costume you put together for your little PAW Patrol Rubble fan he won't just be wearing it for Halloween (you probably going to have a hard time getting your little one to take it off).
Paw Patrol – Action Pack Pup & Badge – Rubble

Bruder Construction Toy Hard Hat

Paw Patrol Character Badges

LittleSpring Little Boys' Vests Zipper Pocket Size 6 US Yellow

Carter's Vest (Baby) – Yellow-24 Months

KicKee Pants Toddler-Boys Print Coverall- Bark, 3T

Carter's Baby Boys' 2 Pack Pants (Baby) – Brown – 18M

Carter's Baby Boys' 3 Piece Take Me Away Set (Baby) – Construction – 6M

Jefferies Socks Little Boys' Construction Triple Treat Socks (Pack of 3), Putty, X-Small

More Paw Patrol Rubble Clothing Ideas
These two pieces of Rubble PAW Patrol kids clothing aren't costumes but I thought they were so darn cute that they would make a great addition to your little Rubble fan's closet.
The overall and t-shirt can both be personalized with your child's name up to 10 characters and if you team them up with a yellow vest, yellow construction helmet, PAW Patrol badge, and backpack what a great gift this would make for an everyday play outfit.

Paw Patrol Rubble Denim Overalls
These personalized PAW Patrol Rubble-themed overalls are absolutely the cutest Paw Patrol kids apparel especially since you can have your little PAW Patrol Rubble fan's name right on the front of the overalls.
These personalized Rubble on the double denim overalls feature Rubble smiling and their is a place to add a special name up to 10 characters. These adorable Rubble overalls are made of 100% Cotton denim and are machine washable.
The Rubble themed overalls come in the following sizes:
Infant (6-12 months)
Infant  (12-18 months)
Infant (18 – 24 months)
Toddler – 3T
Toddler – 4T
Toddler – 5/6T
NOTE: The infant overalls up to 24 months feature snap closures on the legs.
NOTE: The infant and toddler sizes tend to run small
*****
These personalized Paw Patrol Rubble Denim Overalls are just perfect for your little PAW Patrol fan.

Paw Patrol Rubble Dig It Black Football Tee
This cute Rubble t-shirt features our favorite PAW Patrol bulldog pup jumping through the shirt with the Rubble's favorite phrase "I Can Dig It!"
And to make this t-shirt really specially you can personalize it  by adding your child's name to it.
This t-shirt is made of a cotton/polyester blend with double-needle stitching on sleeves and bottom hem.
It's machine washable and you can order it for all sizes, just check the sizing chart.
***********************
I sure hope this page helped you a bit with putting together a  Rubble Paw Patrol Costume for you little Toddler PAW Patrol Rubble fan. Don't forget to back and visit and see what I've come up with for a Homemade Rubble PAW Patrol Costume.
You might also be interested in these other PAW Patrol Costumes:
There's Only HOW Many Days Left Until Halloween?
Our Countdown To Halloween Clock Says….
Use Our FREE Halloween Costume & Decoration Finder Tool Below.
Just type in the Search Box and you'll get loads of ideas for costumes or decorations!
What can we Help You Find?
Get More Great Halloween Costume and Decorating Ideas
Show Me My Deals on Amazon Today
Show Me the 2017 Most Wanted Gift List