If you want to get that WOW factor, any one of these Cinderella Costumes for Adults will turn a few heads when you make your grand entry.
Enjoy the evening as an Enchanting Princess in your own ballroom gown as you steal the limelight and mesmerize the crowd as you dance the night away.

Your night will be a magical one while wearing one of these gorgeous Adult Cinderella costume gowns.
The fairytale story of Cinderella is perhaps one of the all time best original loved Disney Princesses. The perfect fairytale of a young woman who finds her handsome Prince Charming with a little help the Fairy Godmother.
So, if you are looking for that perfect Disney Cinderella fancy dress, below you find a few of the most popular Cinderella adult costumes that are available to buy. You not only will find Cinderella costume for women but you find all the extra accessories that you will need to feel just like the royalty you are.
Cinderella Costumes For Adults
Whether you are looking for Cinderella Costumes for adults from the original Disney movie or you're totally in love with the costumes from the latest release of Cinderella Live movie you find aplenty of of mesmerizing Cinderella costumes on this page.
However, if you are looking for more Cinderella costumes you'll find them on some of our other pages.
Just follow the links below:

Womens Disney Deluxe Cinderella Costume
from: HalloweenCostumes.com
If your aim is to look as if you just stepped out of a story book then this gorgeous Womens Disney Deluxe Cinderella Costume is just what you are after.
Looking for your Prince Charming then this costume might just lead him straight to you.
Don't forget to pick up some clear heels to finish off your Cinderella storybook look.
This costume comes with a long light blue strapless dress with a bodice that has boning and features light blue and clear plastic jewels that are sewn in to the fabric.
The skirt has a sheer overlay with a long light blue glitter covered mesh that hangs off the back.
You'll also, get a cape with faux collar, black choker with a blue plastic jewel that is attached to a silver pendent.
There is also a blue headband for your hair but with this beautiful ball gown you want to consider buying a tiara to replace the headband.
&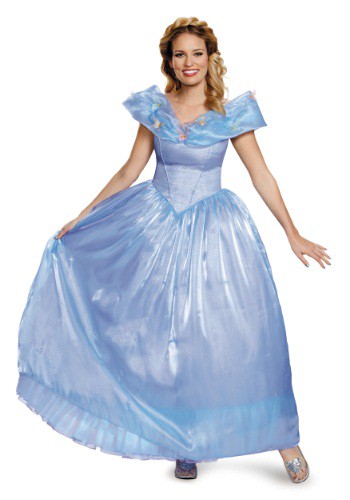 Women's Cinderella Movie Ultra Prestige Costume

Deluxe Plus Size Prince Charming Costume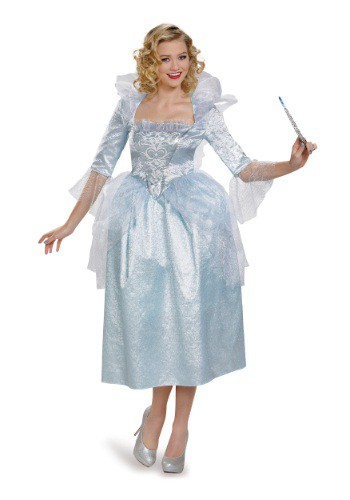 Women's Cinderella Fairy Godmother Costume

Women's Prestige Lady Tremaine Costume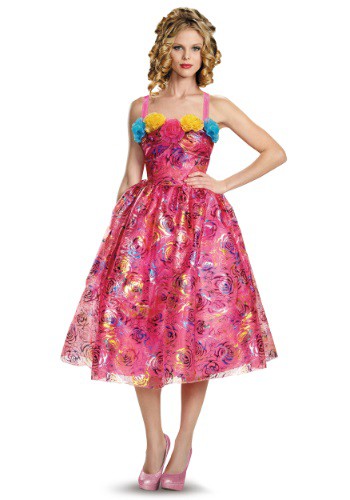 Women's Deluxe Anastasia Costume

Womens Deluxe Drisella Costume

&
Women's Enchanting Princess  Cinderella Costume
No matter what fancy party or elegant event you off to, you will be the center of attention of any princess that lays his eyes on you.
This Women's Enchanting Princess Cinderella Costume is a deluxe version of a princess dress. It is absolutely stunning and well worth the price and it is definitely a high quality gown and fit for a princess.
What all comes with this Cinderella costume?
satin and brocade gown with attached peplum
hoop petticoat
elbow-length gloves
tiara with sequins
jeweled choker necklace
**** Note
You might want to exchange the tiara for better quality one like a wedding tiara. There are a few that I have added to this page.
Disney 6Pc.Deluxe Princess Cinderella Dress
This Cinderella adult costume is absolutely beautiful and is made of excellent quality material. You will love this elegant Cinderella Costume.
What does Deluxe Princess Cinderella Costume Include?
Official licensed Disney Princess dress
Cape
Crown Head Piece
Disney Cinderella Adult Deluxe Costume
The Disguise Disney Cinderella Adult Deluxe Costume is another Official Disney licensed product the is very beautiful for the price. It's a PERFECT Cinderella dress!
Includes:
dress with silver printed peplumn
jeweled accented bodice
headpiece
choker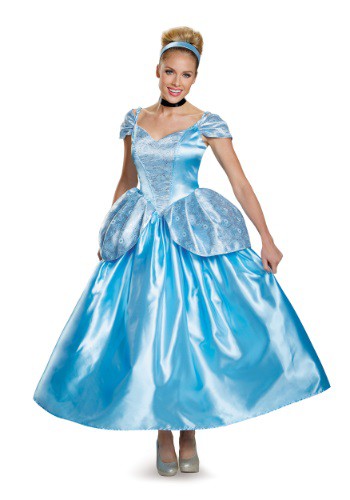 Women's Prestige Cinderella Costume
from: HalloweenCostumes.com
This officially licensed Disney Cinderella costume will turn you into the belle of the ball and you'll  magically live the life of the fairy tale princess when you put this Cinderella Costume on.
This costume comes with a peplum dress, choker and headband.

Womens Disney Classic Cinderella Costume
from: HalloweenCostumes.com
This Women's Disney Classic Cinderella Costume is beautiful enough to stop your Prince Charming in his tracks.
All you need is to add some killer shoes and satin gloves and you will have the perfect Cinderella look.
This costume comes complete with a powder blue dress with glittered cupcake sleeves band a decorative bow with a faux diamond.
To finish off the fancy Cinderella costume you get a black ribbon choker and matching blue headband.

Women's Cinderella Movie Prestige Costume
from: HalloweenCostumes.com
This Cinderella movie prestige costume will transform you into a princess just like Cinderella is the latest live action film.
The star of the movie was Cinderella's magical sparkling blue gown that came straight from the Fairy Godmother.
This Cinderella dress is sleeveless with a built-in petticoat and back zipper.
The bodice has a princess-cut with seams accented with piping and a sheer ruffle with appliquéd butterflies.
There are glittery sparkles that cover the enter skirt of this officially licensed Cinderella costume for adults.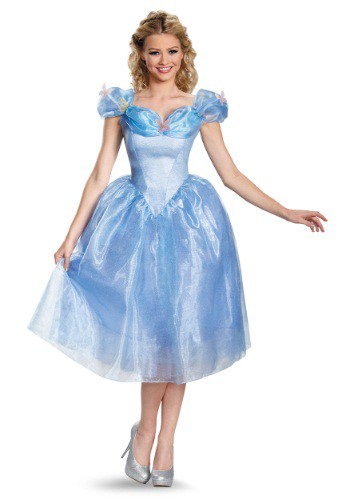 Women's Deluxe Cinderella Movie Costume
from: HalloweenCostumes.com
This  Officially licensed Women's Deluxe Cinderella Movie Costume comes with a sleeveless dress the fates at the back with Velcro.
This enchanting Princess Dress has a metallic bodice front, tulle underskirt, with crisp,sheer overlays on the skirt and  neckline.
The satin petticoat has an elastic waistband and comes with a crisp sheer hemline ruffle.

Womens Disney Glass Slipper Cinderella Costume
from: HalloweenCostumes.com
Are you looking for a Cinderella costume that is a little more sassy but still exquisite?
Then you will love this Womens Disney Glass Slipper Cinderella Costume and just add a pair of  "glass" or glittery silver shoes and white or silver elbow-length gloves and you will be the bell of the ball!
Here Are More Cinderella Costumes For Adults
&
Disney Adult Cinderella Costume
Classic Cinderella Costume
Enchanting Princess Costume
Storybook Princess Costume
Organza Cosplay Cinderella Dress
Deluxe Cinderella Ball Gown
&

We Can't Forget Cinderella Accessories!
Cinderella Glass Slippers
To put the finishing touches on our Cinderella Costume we need a tiara fit for a Princess and glass slippers.
&
Ellie Women's Ariel (Clear) Shoes
Women's Crysta Pump
Ellie glass Shoes
5 Inch Heel Clear glass slipper
Cinderella Tiara
Sparkling Tiara use Swarovski Crystal
SparklyCrystal Rhinestones Tiara
Tiara headband
Rhinestone Heart Flower Design Tiara
&

I hope you found what you were able to find the perfect ball gown on this page Cinderella Costumes For Adults. If you still need some more ideas you can check out the links below for additional Cinderella Costumes.
You might also be interested in these pages:
There's Only HOW Many Days Left Until Halloween?
Our Countdown To Halloween Clock Says….
Use Our FREE Halloween Costume & Decoration Finder Tool Below.
Just type in the Search Box and you'll get loads of ideas for costumes or decorations!
What can we Help You Find?
Get More Great Halloween Costume and Decorating Ideas
Show Me My Deals on Amazon Today
Show Me the 2017 Most Wanted Gift List