Are you looking for Cinderella 2015 costumes for adults? If indeed you are you'll find quite a few ideas to choose from.

Of course the majority of individuals wanting to replicate the look of one of the characters specifically from the movie will more than likely be after the famous stunning blue Cinderella ball gown, however there are other characters that have some great outfits that would make the perfect Cosplay, fancy dress, masquerade, prom, or Halloween costume.
The New Disney Cinderella live-action fantasy movie was directed by Kenneth Branagh and was inspired by the Cinderella original fairy tale and the original 1950 animated Cinderella movie.
I'm sure that we all know the plot of the movie and we all have our favorite characters. But if you'll still not sure of the cast and all the characters you can find them below.
Disney's New Live-Action Cinderella 2015  Official Trailer
If you haven't yet since the movie, this will give you an idea of the NEW Disney's  Cinderella 2015 Movie and you just might get an idea of what sort of costume you will be wearing for Halloween this year.
Cinderella 2015 is getting some awesome reviews from from critiques who have managed a sneak peek of the movie and since the movie has been released there are even more great reviews.
In the new movie, we will see a more independent and much stronger version of Cinderella – she is definitely not just sitting around waiting for her Prince Charming to scoop her up and save her.
But enough of that, if you haven't seen the movie yet go and judge for yourself!
Cinderella 2015 Characters List
Lady Tremaine (Cinderella's step-mother) played by Cate Blanchett
Cinderella played by Lily James
Prince Charming played by Richard Madden
Fairy Godmother played by Helena Bonham Carter
Anastasia Tremaine (Cinderella's step-sister) played by Holiday Grainger
Drizella Tremaine (Cinderella's step-sister) played by Sophie McShera
Cinderella's Mother played by Hayley Atwell
The King played by Derek Jacobi
Captain played by Nonso Anozie
Grand Duke played by Stellan Skarsgard
Gentleman played by Barrie Martin

Ideas For Cinderella 2015 Costumes For Adults From A Three Time Oscar Winning Costume Designer
In the age old fairytale Cinderella's magical transformation into the stunning beautiful belle of the ball was accomplished by no other than Cinderella's Fairy Godmother.
However, in the brand new Cinderella 2015 live action film we have to give credit where credit is deserved.
Move over Fairy Godmother because this time the three time Oscar winner Sandy Powell highly deserves the full recognition for designing every piece of clothing in the Cinderella 2015 movie.
There are so many women and girls worldwide that are already wanting to replicate the hypnotic look of Cinderella's gorgeous blue ballroom gown that was so intricately designed Sandy Powell.
Even though in the movie Cinderella only wears four different costumes but each costume is very distinct.
Cinderella's 2015  Blue Ball Gown
However, the Cinderella costume that we are all very familiar with is Cinderella's stunning blue ball gown that was inspired and based on a 1950's Cinderella's blue merchandise dress that was different from the silver dress from the film.
Sandy Powell designed the dress using a variety of six layers of different hues of hand-painted fabric to create this stunning blue color for the dress.
Each of the layers was individually hand painted with soft hues white, lilac, lavender, green, and blue similar to water-colour painting.
The five under layers of the dress are made of very light polyester, however, the top layer was made of a fine very expensive silk.
Adding them all up the dress was actually made of over a dozen fine layers of material and a petticoat.
James also wore a laced up corset that Powell corrected the myth that corsets were really not uncomfortable at all as long as they fitted properly and didn't push up on the rib cage.
Powell made it quite certain that all the corset did was make you aware of your posture.
Powell was looking for a floating look especially when Cinderella made her mad dash, as the clock stuck midnight, to her awaiting carriage.
To create Powell's design for just the ball gown, itself, actually took twenty people a total of five hundred hours to complete, along with 270 yards of fabric and 10,000 crystals.
Before the final costume was completed there were a total of nine versions made of Cinderella's iconic blue ball gown.
Below are some images from the Cinderella 2015 exhibit.
An Interview With Lily James Who Plays Cinderella
******
Cinderella's 2015 Wedding Dress
Powell's design of the wedding dress was little more difficult because she wanted it to be different from Cinderella's blue ball gown.
The dress was designed with an extreme-lined shaped bodice and a long train.
The wedding dress was made of hand printed silk-organza and took sixteen people over 550 hours to finish Cinderella's wedding dress.
Cinderella 2015 Ball Gowns
Here is a look at some of the absolutely gorgeous Cinderella ball gowns that are available.
Ball Gown Royal Blue Princess Cinderella Dresses
Women's Organza Cosplay Cinderella Dress Ball Gown Blue
Women Cinderella Princess Prom Dress Long Ball Gowns
Cinderella Dresses Floor Length Ball Gowns  Baby Blue
Blue Ball Gown Princess Cinderella Girl's Dresses
Princess Cinderella Dress Sweet  Ball Gown
Dress U Ball Gown Quince Dress Cinderella Dresses Blue US 14
Cinderella Princess Organza  Long 2016 Ball Gown Royal Blue
2015 Cinderella Adult Costume Women Cosplay Blue Ball Gowns
Cinderella's 2015 Glass Slippers
In the live action movie Cinderella, actress Lily James is lucky to be able to conceal the fact that she is super comfortable running shoes because of the fact that her long ballroom gown was able to cover her feet so, she actually never had to wear the glass slippers that played such an important part in the fairytale itself.
When it came to Sandy Powell's design of Cinderella's glass slippers, she based her design on a 1890s that she saw in a Northampton museum. When designing the shoe she wanted it to be suitable for the fairytale but yet still have modern looking touch, which accomplished by giving the shoes five inch heels.
She then had casts created of the shoe which were then sent to the Swarovski crystal company where the Cinderella glass slippers  were cut out of crystal in 3 separate pieces that were fastened together.
Swarovski actually made 8 pairs of crystal shoes for the cinderella 2015 movie, however none were wearable.
Along with the shoes Swarovski also provided well over seven million crystals which were used for the costumes and the hundred tiaras that were  used for the ballroom scene.
According to the James who played the part of Cinderella the shoes themselves were only used as a prop.
In the movie Cinderella's glass slippers were generated through some awesome movie magic.
Not to spoil the fairytale ending but the glass Cinderella slippers didn't fit James feet, as a matter of fact they didn't feet anyone's feet.
To elaborate more on this statement would just ruin the fairytale ending, so it's best if you find out for yourself.
Cinderella 2015 Stepmother and Stepsisters Costume Ideas
When Sandy Powell went about designing the outfits for the Stepmother played by Cate Blanchett and the two stepsisters played by Sophie McShera and Holiday Grainger, she new exactly the look she was after.
The costumes had to leave the impression of the characters being totally ridiculously dressed ( overdone and a little bit too much) on the outside and she had to leave the audience with the overall feeling of these 3 being really ugly on the inside.
Basically I think she accomplished the look she was after with the stepmother and two stepsisters.
Cinderella 2015 Stepmother Costume
This is an officially licensed Cinderella Stepmother costume that will most certainly transform you Lady Tremaine and includes an iridescent dress but no shoes.
Cinderella 2015 Wicked Stepsister Costumes
Here are two costumes you might take a liking to if you plan on going out for Halloween as one of the wicked stepsisters.
This officially licensed Cinderella Anastasia Costume will let you transform yourself into Cinderella's sharp witted wicked stepsister Anastasia.
Anastasia's costume includes the flower embellished dress but does not include the shoes.
This officially licensed Cinderella Drisella Costume includes the flower embellished dress but does not include the shoes.

Cinderella 2015 The Fairy Godmother Costume Ideas
Cinderella's fairy godmother's gown was simply gorgeous, but then again what else can be said, she most certainly is the fairy godmother.
When designing the costumes Powell wanted a significant contrast from the beggar woman in her ragged grey, brown and pewter costume into a glowing bright white magical costume.
To get the luminous magical glowing effect she added 4,000 tiny LED twinkling lights that were stitched into the fabric all over the fairy godmother's costume, along with over 10,000 Swarovski crystals.
Not too distracting but just enough to give that glowing effect.
The white fairy godmother gown with wings that Powell designed was made of 131 yards of material.
Helena Bonham Carter plays the role of the fairy godmother in the 2015 live-action version of the Cinderella movie. You might not know it but Helena played a big role in her costume.
She actually said that she wouldn't take on the role of the fairy godmother if her costume didn't have wings.
Helena had promised her daughter that her costume would have wings. However Sandy Powell didn't want the her design of the fairy godmother to have wings.
However, after a bit of a conversation they eventually came up with some gorgeous wings.
Needless to say, in this version of Cinderella the fairy godmother is kind of a maverick Marie Antoinette. So that might give you an idea for picking out a costume to replicate the fairy godmother.
The Cinderella 2015 Movie: Fairy Godmother Costume For Women is an officially licensed Cinderella costume and comes with a light blue hand wash, 100% Polyester, dress  with attached wings.
NOTE: The  wand,  shoes, and jewelry do not come with the dress.
Cinderella Deluxe Fairy Godmother Adult Costume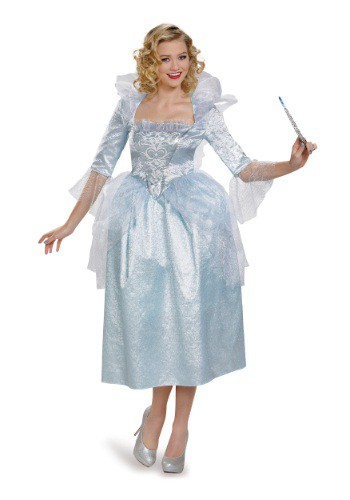 Women's Cinderella Fairy Godmother Costume

Fairy Godmother Adult Deluxe with Lite-Up Wand
Women's Fairy Godmother Prestige Costume,
Cinderella 2015 Princess Charming Costume Ideas
Sandy Powell created the outfit that Richard Madden was to wear after the silhouette of the prince from the original animated Cinderella movie from the 1950's.
Powell wanted to create a costume that was more fitted with less masculine colors. Personally I think that Prince Charming's outfit accentuates Richard Madden's eyes in the movie.
Now for a few Cinderella 2015 costumes for adults that I've come across that will help you replicate the look you are after.
The movie has just been released but I'm sure that before Halloween there will be loads of new costumes to choose from.
The Cinderella 2015 Movie: Mens Prince Charming Costume is an officially licensed Cinderella costume. This Prince Charming tailcoat and pants comes complete except for the boots.
Prince Charming Movie Adult Deluxe Uniform Costume XL
LLC Men's Prince Charming Costume
Prince Charming PRESTIGE Halloween Costume
Prince Charming
Fairy Tale Prince Charming Adult Costume
4Pc. Prince Charming Costume
Cinderella 2015 Costumes For Adults
Now for a few Cinderella 2015 costumes for adults that I've come across that will help you replicate the look you are after. The movie has just been released but I'm sure that before Halloween there will be loads of new costumes to choose from.
However, for now here is what I've found but if you have the time and the patience you could always put the costume you are after together on your own.
Either way I'll try and help you finding costumes or if you are the diy kind of person I'll help you find the right fabric, patterns and accessories so that your quest for wearing the ideal
Cinderella 2015 costume won't be such a chore.
This beautiful Cinderella costume is made of 90% terylene and 10% spandex and is Hand washable.
The Cinderella dress features a foil embellished bodice, sweetheart neckline and tulle flutter sleeves with tulle overlay.  The  costume also comes with choker and glovelettes.
More Cinderella 2015 Costume Dresses
2015 Cinderella Costume Dress
Cinderella Princess Cosplay Dress
2015 Luxury Princess Cosplay Dress
You might also be interested in these pages:
There's Only HOW Many Days Left Until Halloween?
Our Countdown To Halloween Clock Says….
Use Our FREE Halloween Costume & Decoration Finder Tool Below.
Just type in the Search Box and you'll get loads of ideas for costumes or decorations!
What can we Help You Find?
Get More Great Halloween Costume and Decorating Ideas
Show Me My Deals on Amazon Today
Show Me the 2017 Most Wanted Gift List