Boba Fett womens costume is another Star Wars costume for women that you might want to consider for this year's Halloween party.
There are plenty of choices when it comes to dressing up for Halloween, there are superhero costumes for women, or maybe you're kind of thinking of dressing up in a costume from the medieval time.
But let's face it with the NEW Star Wars movie scheduled to come out at the end of this year you can bet that Star Wars costumes are going to be one of the most popular costumes of the year.
There are quite a few Star Wars Costumes for women to choose from, however, we thought that it might be fun to take a closer look at the Boba Fett Womens Costume.
A little tired of being always pushed in the direction of wearing a Princess Leia costume just because you are a female Star Wars fan.
How about surprising everyone at your next Halloween Party and showing up as "the best bounty hunter in the galaxy" as Darth Vader would say?
Everyone's favorite Mandalorian bounty hunter does not have to be just for guys. Now we gals can nerd out just as much.
To pull this costume off you really don't necessarily have to be the clone of Jango Fett!
Boba Fett Womens Costume – A Closer Look
For starters let's take a little closer look at the officially licensed Boba Fett Womens Costume,
The body-hugging jumpsuit is made of 100% synthetic and must be hand washed. The main color of the suit is a light gray but there are portions of it that are a light green with a few touches of yellow.
The green pieces simulate the armor that the bounty hunter character wore in the movie. There is a brown belt at the waist that's made to look like leather and has molded pockets on it.
The suit is long sleeved and one of the sleeves has a molded armor piece at the wrist fitting up to mid forearm. The shirt comes with a high collar. And to finish off the look a cape is attached to the back of the shirt.
Finally to complete the costume, there is a two piece mask that comes with the Boba Fett Womens Costume.
NOTE: To be the best darn bounty hunter in the Galaxy you are definitely going to need to find your own Sacros K-11 blaster as it doesn't come with this outfit.
You'll need your own shoes though, as they aren't included.
In case you are having a problem locating a Boba Fett Womens Costume or maybe you need International shipping here are a few alternate online stores that carry this officially licensed Boba fett Costume.
Star Wars Boba Fett Female Adult Bodysuit Costume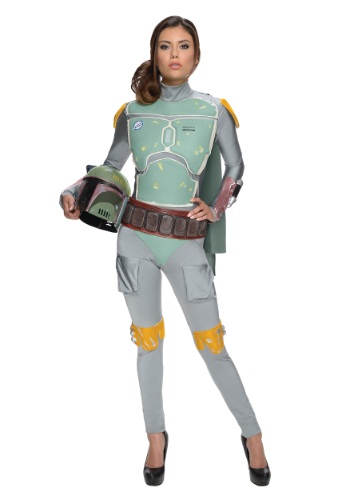 Star Wars Female Boba Fett Bodysuit

Star Wars Boba Fett Womens Costume
Boba Fett Womens Costume Accessories
Star Wars Classic Boba Fett Blaster
Star Wars – Boba Fett Dog Tags
Star Wars Boba Fett Mandalorian Logo II Embroidered Iron Patches
Star Wars Jewelry Unisex Mandalorian Symbol Stainless Steel Leather Cord Pendant Necklace, 24
 More Boba Fett Womens Costume Ideas
If you're a huge fan of Boba Fett but you still want the girlish look then you love this Boba Fett pullover gray dress with printed armor that is made of 100% polyester interlock knit.
Along with this great dress is an attached white tulle petticoat, brown belt with printed pockets, with gray socks that have a printed design.
To finish off the Boba Fett outfit you get a knitted laplander hat.
If you want more dress ideas these are also kind of cute!
Star Wars Boba Fett Skater Dress
Women's Star Wars Boba Tunic Tank
Boba Fett Tunic Tank Dress
There's Only HOW Many Days Left Until Halloween?
Our Countdown To Halloween Clock Says….
Use Our FREE Halloween Costume & Decoration Finder Tool Below.
Just type in the Search Box and you'll get loads of ideas for costumes or decorations!
What can we Help You Find?
Get More Great Halloween Costume and Decorating Ideas
Show Me My Deals on Amazon Today
Show Me the 2017 Most Wanted Gift List